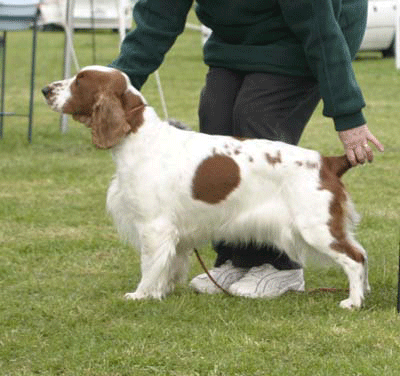 Ch Laugharne Nordic Light
Saffi was our second Welsh and has been a wonderful companion and show dog. In her later years she became a bit of a couch potato but was always ready for a walk or to chase balls.
Saffi has won Best in Show and Runner up Best in Show along with a number of in group awards. She retired at 9 years old and was still winning bitch challenge and best of breed over much younger dogs. A European judge at one of her last Championship Shows summed her up beautifully: "She's a good one." he said as he awarded her Best of Breed at 9 years of age from an entry of 11 younger dogs.
Saffi bred two lovely litters - the Maesgwyn Precious Gems and Maesgwyn Thunder & Light litters.  We said farewell to our magnificent Saffi on 27 December 2014 at the grand age of 14 years, 8 months.
Breeders:  Trevor & Beth Marschall, Laugharne Kennels
DOB:  30.4.99 - 27.12.2014
Sire:  Aust Ch Laugharne Kinotaff (AI)
Dam:  Aust Ch Laugharne Evensong ET
Hips: L3, R4 Total: 7  
Eyes: Clear (HC)(G) Unaffected